When it comes to Long Island hotel accommodations, few in the Gold Coast area can hold a candle to the Inn at Fox Hollow. Beautifully meshing luxury with comfort, the Inn is the premier boutique hotel on the North Shore of Long Island.
But while luxurious with all the right amenities, sprawling lush grounds, and a central location, the Inn at Fox Hollow's packages are still an affordable option when you want to spend time away from your home base. It's a rejuvenating getaway that won't clear out your bank account.
The same cannot be said for some of the world's most lavish hotels. With exotic locations and pampering that would make royalty blush, accomodations for one night at these hotels will cost a full year's pay for most of us. But let's dream for a moment and examine the top five most lavishly priced hotels around the world, listed from "lowest" priced to the heights of dizzying extravagance.
5. The Penthouse Suite, Hôtel Martinez, Cannes, France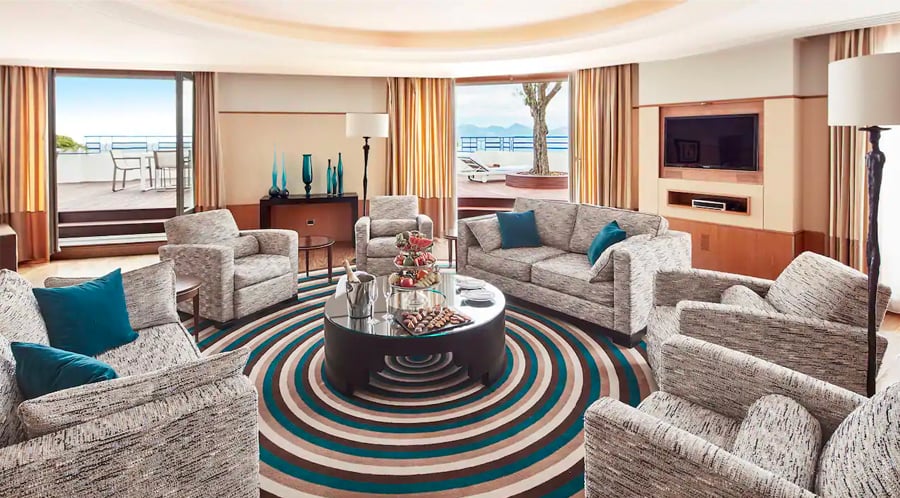 Photo from hyatt.com
As the main go-to hotel for celebrities visiting the famed Cannes Film Festival, the Penthouse Suite at Hôtel Martinez has definitely seen its fair share of Hollywood hijinks. And more than any other hotel on this list, the high price here has almost everything to do with location (no butler service?). At only seven stories up, a night here puts you right in the middle of the city's party and entertainment atmosphere. For a taste of the elite life in France, you'll need to pay about $54,000 for one night in a luxury suite.
4. Hilltop Villa - Laucala Island, Fiji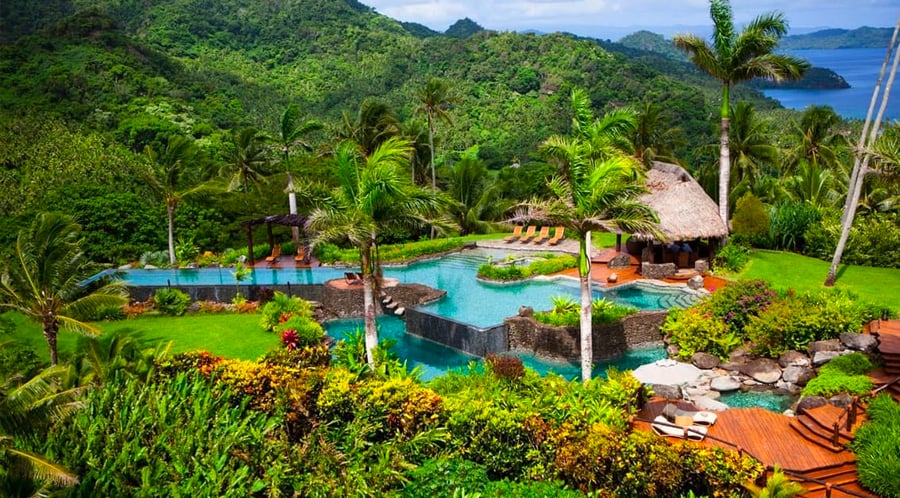 Photo from true5stars.com
This resort within a resort gives you a full 360-degree view of tropical paradise when you rent one of the three hilltop villas on Laucala Island. To guard against isolation, your villa comes equipped with a pair of guest residences for your closest family and friends or any other travel companion you decide to invite. Guests get a chauffeur, private chef, and a nanny as a standard part of the hotel's services, while the real glow of this hotel is clearly the natural surroundings. You can get a taste of the Fijian good life for a mere $65,000 per night.
3. The Grand Penthouse at The Mark, New York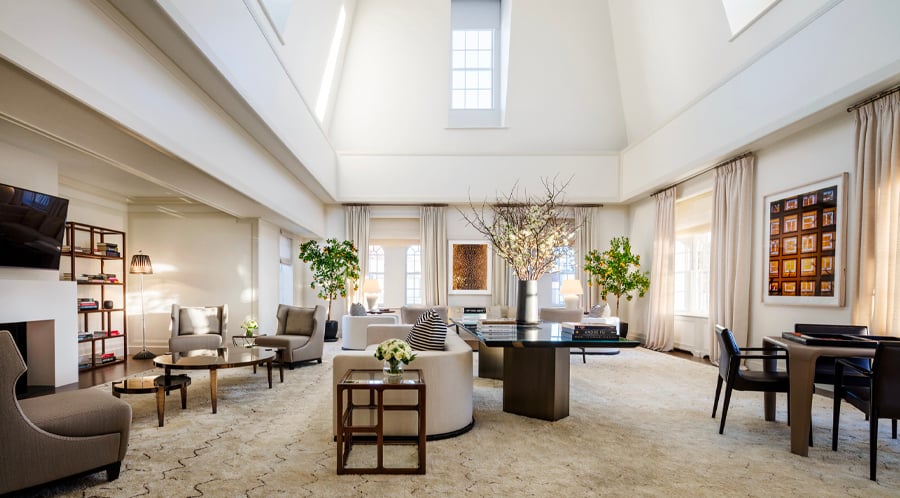 Photo from themarkhotel.com
This penthouse space is easily one of the poshest luxury pads in New York City—it even played host to the royal baby shower for Meghan Markle. This iconic Upper East Side hotel—built in 1927—underwent major renovations in 2006, with a facelift conceived by famed designer Jacques Grange. The Grand Penthouse is perched on the 16th and 17th floors, boasts 10,000-square-feet of interior space, five bedrooms, four fireplaces, six bathrooms, two wet bars, and a 26-foot ceiling. All you need is $75,000 to live like a Manhattan socialite for one night.
2. Royal Penthouse Suite at Hotel President Wilson, Geneva, Switzerland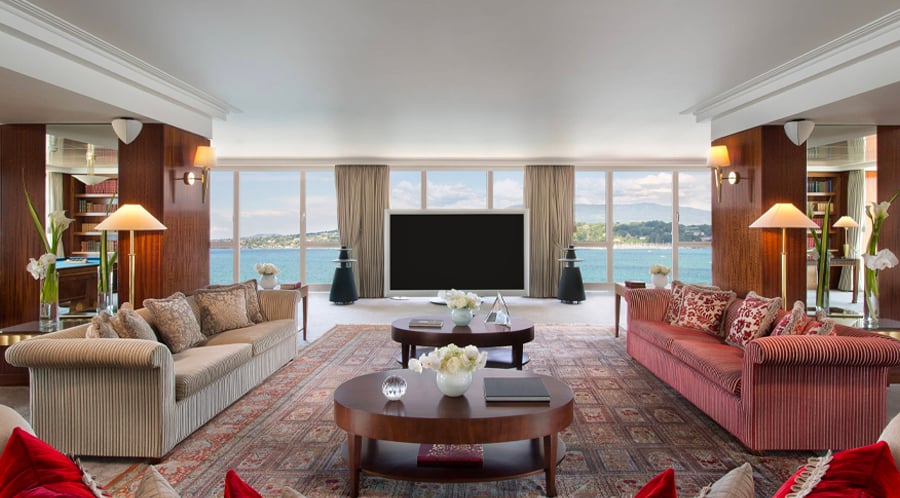 Photo from marriott.com
Up until last year, this was the most expensive one-night stay in the world. As we'll see in a moment, that's changed—but what hasn't changed is the sheer opulence of this European gem. The stunning lake view suite sits on the entire top floor of the hotel and boasts a wraparound terrace for unmatched stargazing. This world-famous suite has 12 bedrooms with marble bathrooms, vast walk-in dressing rooms and a jacuzzi facing the lake. Throw in a private chef, a fitness room, and chauffeur and you're looking at $80,000 per night.
1. The Empathy Suite Sky Villa, Palms, Las Vegas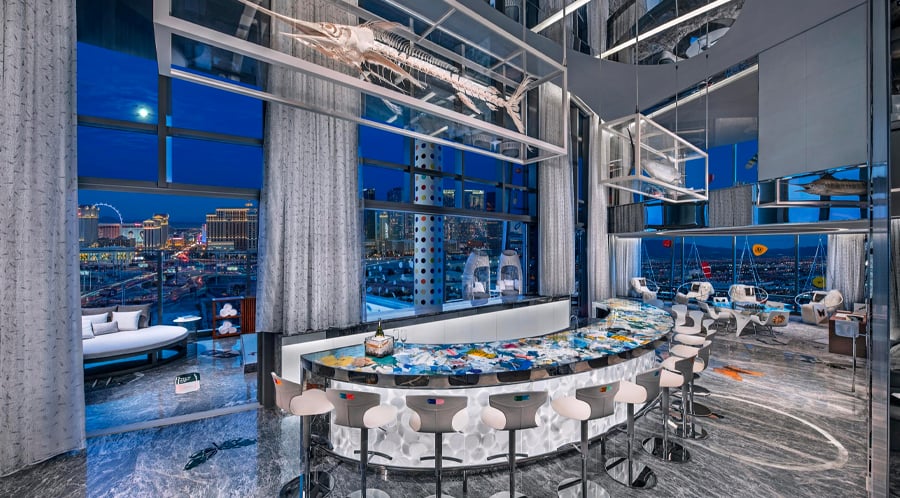 Photo from palms.com
As one of the excess capitals of the world, it's no surprise that Las Vegas finds its way onto this list. The ultimate Sin City retreat, designed by renowned artist Damien Hirst, exults ultra-luxury with two-stories, taxidermied sharks, pill cabinets filled with diamonds (for some reason), a full view of the Vegas strip, marble accents, floor-to-ceiling windows, and a balcony with a pool overlooking the strip. The room is reserved for the world's biggest high-rollers, with amenities like 24-hour butlers, private car services, and A-list access to Vegas' biggest attractions. So you wanna be a baller for one night in Vegas? It'll cost you $100,000.