Guests of the Inn at Fox Hollow have access to world-class amenities, sparkling surroundings on a Gold Coast estate, and a perfectly centralized location on Long Island's North Shore. While those are all glowing characteristics for any boutique hotel to boast, Fox Hollow takes it one deliciously remarkable step further with Volpe Ristorante.
Located adjacent to the Inn and upstairs at the Fox Hollow's storied Long Island catering hall venue, Volpe Ristorante serves authentic Italian cuisine from a kitchen presided over by chef de cuisine Giuseppe Maone, a walking rolodex of secret recipes from Sicily whose been cooking for more than 30 years.
"I love to create," said Maone. "And I show my passion for cooking in my homemade dishes."
Indeed, the menu at Volpe consists of homemade creations that adhere to Italian traditions while allowing the chef to demonstrate his inventive side. The result is a multi-layered meal that marries old-world recipes with intense culinary expertise and award-winning preparations—presented in atmosphere that exudes romance, rich with a refined color scheme, fireplace, white table cloths, bay windows, and chandeliers.
Italian for fox, as a nod to the restaurant's location, guests are greeted by courteous staff in intimate dining areas and a sophisticated bar. And it's from that bar that you'll find Volpe's expert bartender hard at work, devising one of the restaurant's 12 specialty cocktails. Depending on your mood, definitely try the New York Sour—with Bulleit bourbon, lemon juice, simple syrup, and a red wine float—or the house-named Volpetini—with Smirnoff Raspberry Vodka, Cointreau, cranberry, and a champagne float.
Other notable cocktails include Volpe's impressive array of cognac, single malt scotch, whiskey, grappa, and wine.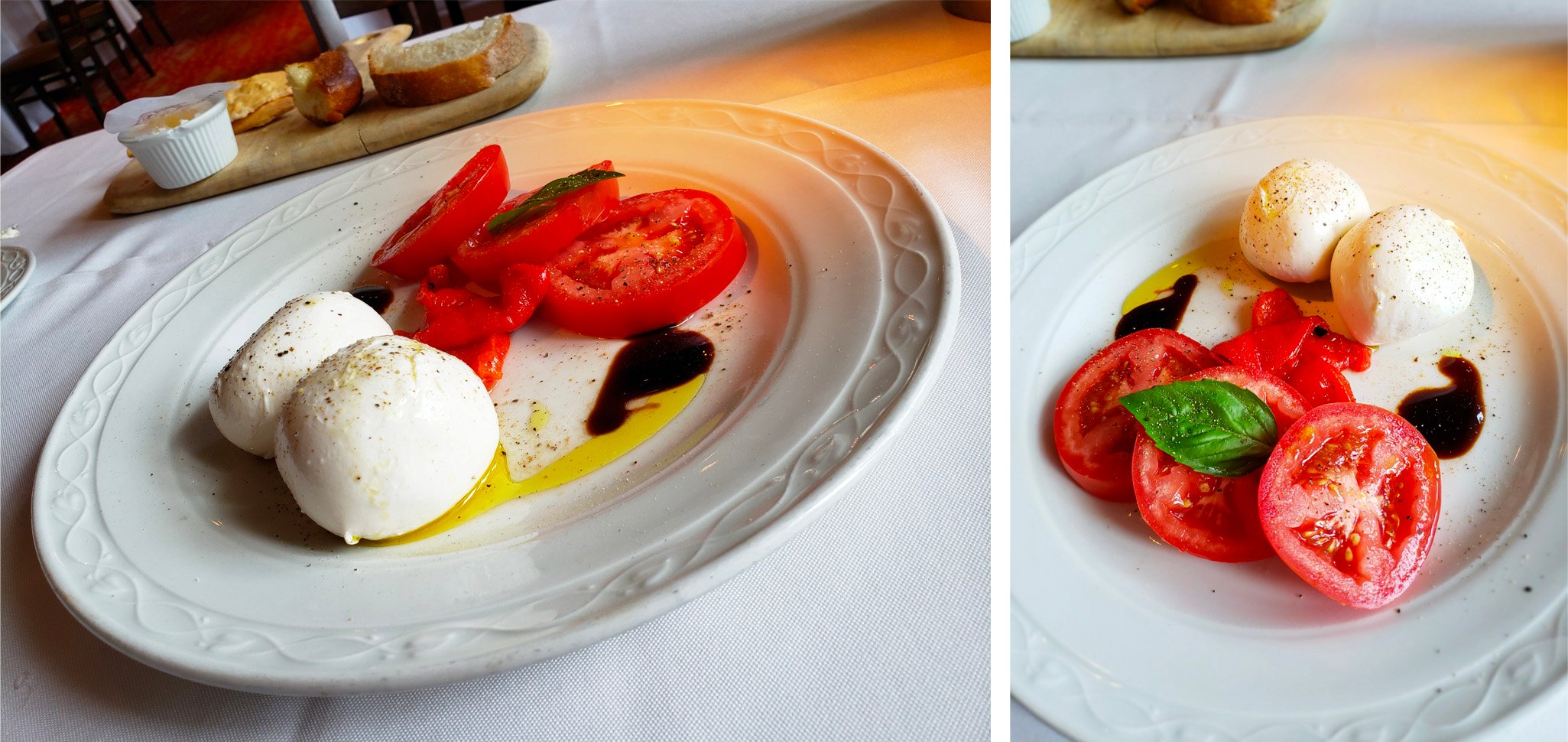 Caprese with homemade mozzarella, fresh tomatoes and basil
And when you're perfectly elevated by libations, it's time to eat. Volpe starts its meals with an assortment of appetizers and salads, all offering the ideal way to whet your appetite. While all the starters come highly recommended, the staff highlights the Eggplant Siciliana and Caprese. First, the Caprese presents homemade mozzarella paired with tomatoes and fresh basil. There is nothing quite like fresh mozzarella, and Volpe's house-made version provides the soft texture and reserved flavor you want in this famous cheese. The garden fresh tomatoes and basil add the desired aromatic brightness necessary to round out the dish.
Meanwhile, the Eggplant Siciliana boasts the flavor and expert preparation that could very well make it a meal all on its own—but it also makes a well-regarded appetizer. Here, the chef bakes delicate and tender eggplant with layers of parmigiano-reggiano and fresh basil, topped with the chef's own tomato sauce and a generous flurry of more parm to top it off. The slightly sweet sauce is a wonderful counterpoint to the mild and rich eggplant, which is baked until it takes on a soft, creamy texture.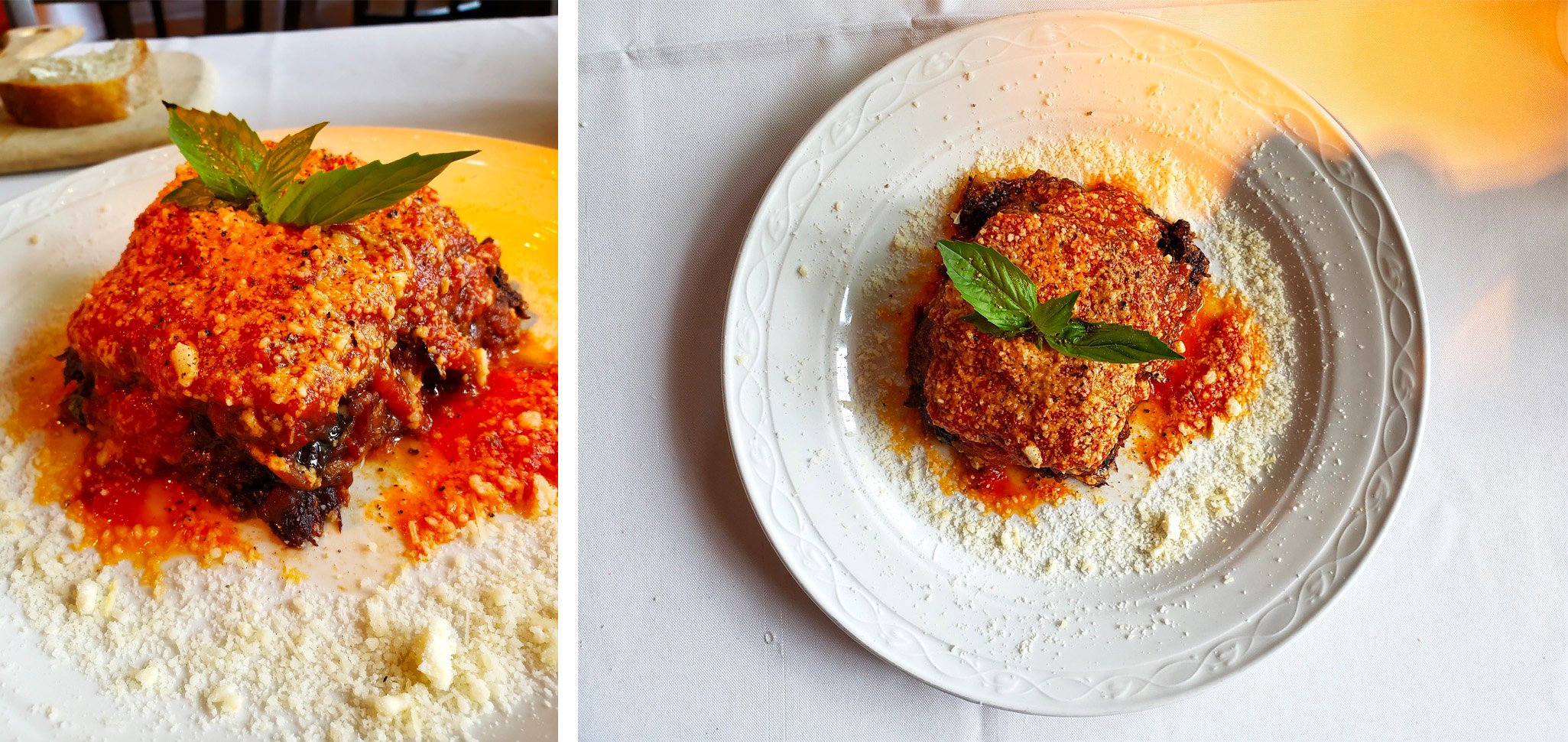 Eggplant Siciliana with parmigiano-reggiano, basil, and the chef's own tomato sauce
Other noteworthy appetizers include fresh and briny oysters on the half shelf, French Onion Soup, and Baked Clams Oreganata. And before the main courses begin, take a salad break as Volpe tosses a vintage Caesar, but also goes beyond the expected with the Serafina, dressed with iceberg, baby arugula, Trevisano radicchio, walnuts, Hudson Valley goat cheese, and raspberry dressing.
This brings us to Volpe's pasta and risotto dishes and as any Italian restaurant worth its weight in marinara should, the restaurant furnishes its menu with top flight dishes. There's the Capelinnini Pescatore with mussels, clams, and shrimp in a light tomato sauce, the classes Linguine with White Clam Sauce, and risottos with either shrimp, lobster or vegetable. But the true standout here is the Bucatini Amatriciana, featuring luscious guanciale simmered with San Marzano tomatoes, fresh basil, and shaved parmigiano-reggiano.
And when you turn your attention to the Classics and Entrées section, you'll fully understand why Volpe is a premier Italian restaurant in Nassau County.
The Classics encompass all the dishes you think of when you imagine the perfect Italian restaurant. There's Fettuccine Alfredo, Shrimp Francese, the Scotto Special, which features chicken cutlet layered with eggplant and melted mozzarella. But the top dish in this section, and perhaps Volpe's most famous dish, is the Chicken Marsala.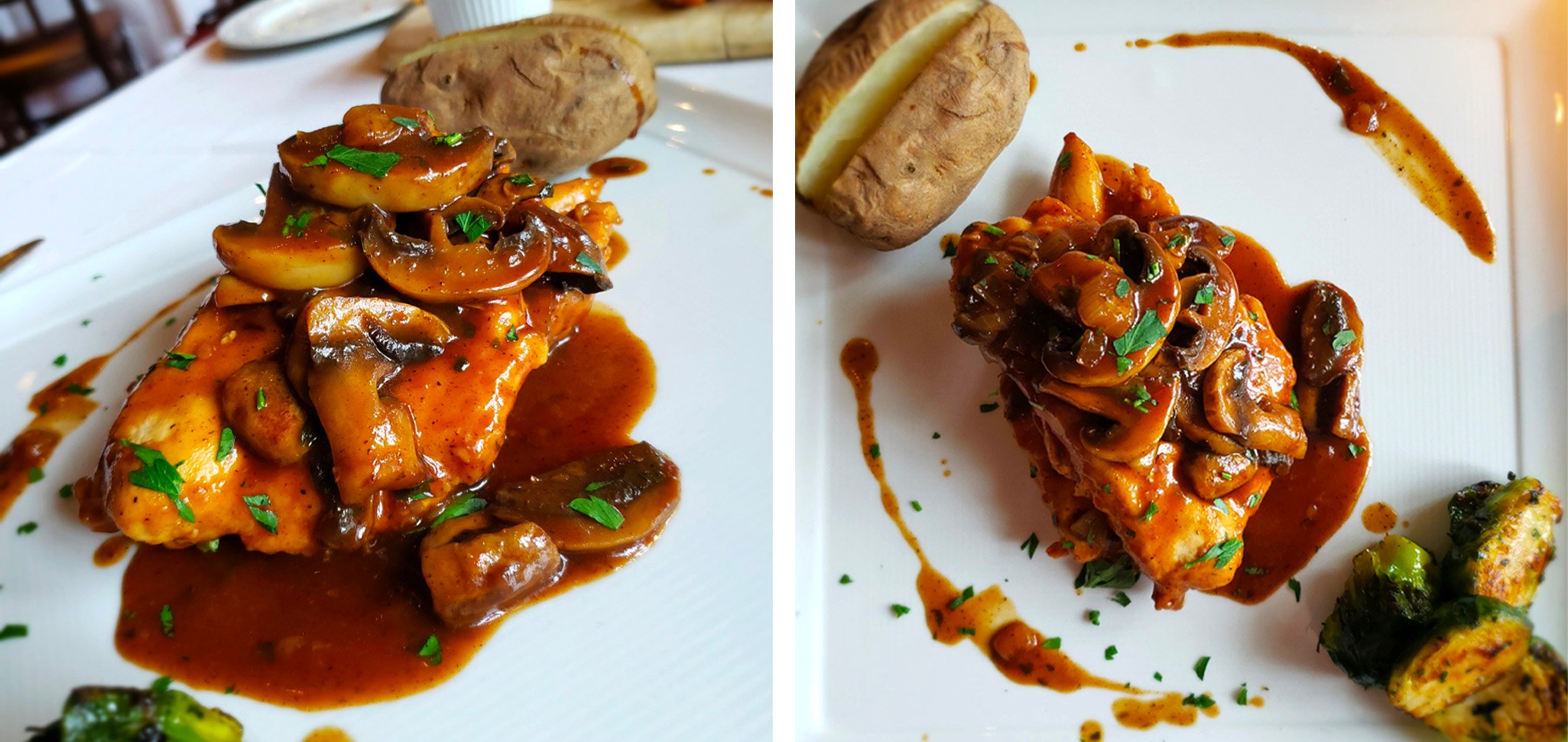 Chicken Marsala with Brussel sprouts, and baked potato
The Chicken Marsala, classically prepared in a silky smooth, rich Marsala wine sauce, is topped with meaty mushrooms for a robust and filling meal. The Marsala sauce drapes a luxurious and creamy flavor over the chicken, which is elevated with the slightly sweet and savory flavor of the rich brown sauce.
Finally, the Entrées bring elegant main course options, with both hearty and subtle creations. There's an 8 oz. filet mignon, a certified Black Angus bone-in dry-aged New York sirloin, veal chops, fresh salmon, Branzino all' Espresso, and more. But as most wise foodies know, you can judge a great restaurant by how it treats a simple roast chicken dish—and Volpe's Herb Roasted Chicken, a free-range bird served with wild mushroom risotto, is dynamic and distinctive, with delicate yet fully flavored meat.
And when dessert rolls around, go for the chef-recommended homemade Tiramisu. It's the perfectly sweet and decadently smooth treat that finishes a meal like no other bite can.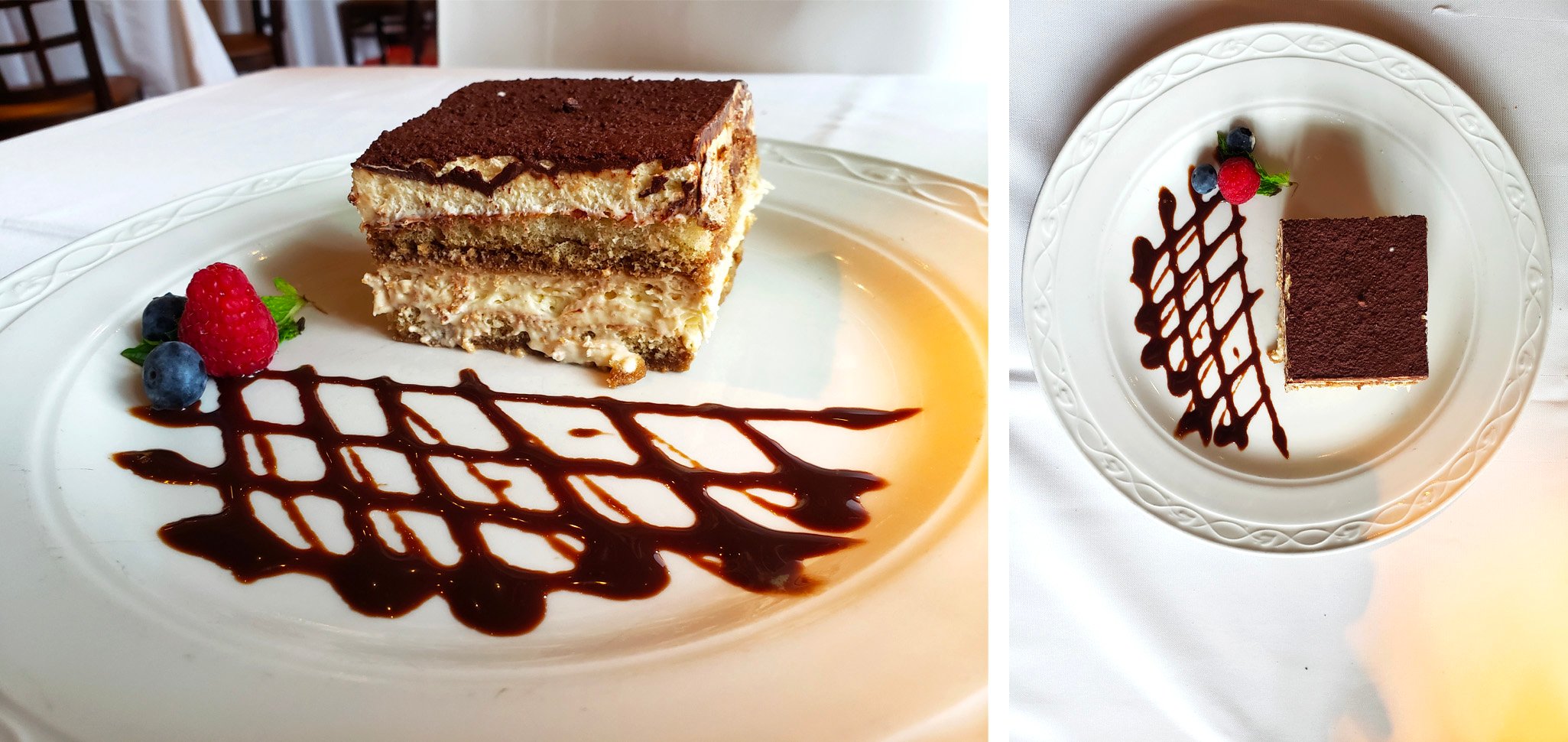 Classic Tiramisu for dessert
Volpe Ristorante, 7725 Jericho Turnpike, Woodbury, is open to guests of the Inn at Fox Hollow and outside customers as well. It is open for dinner, Monday through Friday, 5 to 10 p.m., and Saturday, 5 to 11 p.m.
Weekly specials include Wine Down Tuesday, with half-priced bottles of wine; Lobster Night Wednesday, featuring 1 ¼ and 2 lb. Maine lobster; Prime Rib Night Thursday, featuring Volpe's specialty prime rib menu; Throwback Thursday, staging happy hour at the bar with specialty cocktails and appetizer menu; live music on Friday and Saturday nights; and daily chef specials and wine promotions available.
For reservations and more information, call 516-802-7501 or visit www.thefoxhollow.com/the-volpe.