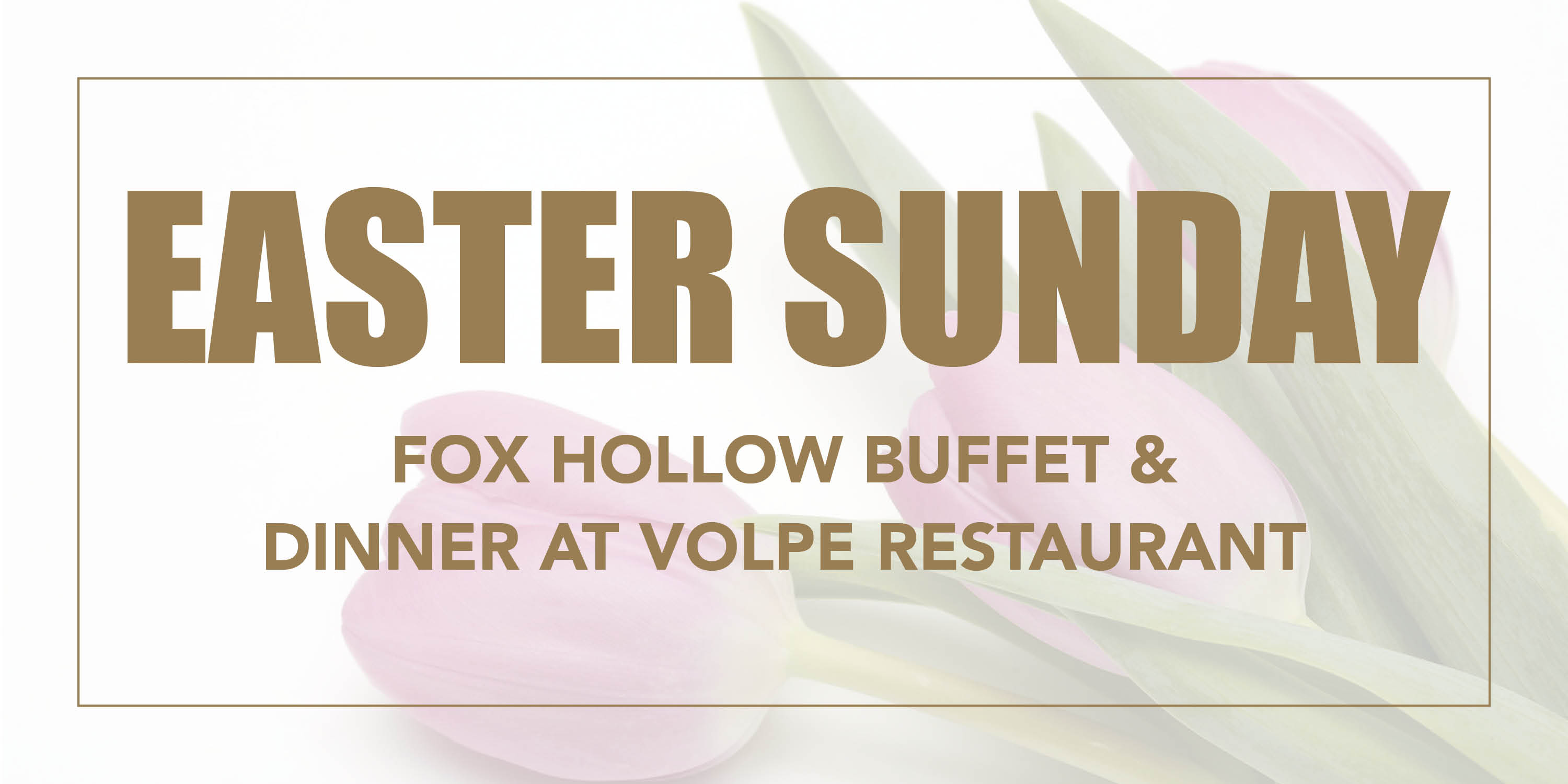 FOR RESERVATIONS CALL 516-921-1415
FOX HOLLOW BUFFET
Seatings Starting At 11:30AM
$84.95* Adults / $54.95* Children Under 12 (No Charge For Children 2 & Under)
Includes Pictures With The Easter Bunny
($50 Reservation Deposit Per Person Required)
~
GOLD COAST DISPLAY
A Variety Of Gourmet Cheeses
Fresh Mozzarella & Tomato
Roasted Tomato Bruschetta
Farm Fresh Vegetable Crudités with Herb Aioli, Green Goddess, Buttermilk Ranch & Gorgonzola Dipping Sauces
Roasted Pork Loin with Herbes De Provence & Citrus Thyme
Seasonal Roasted, Grilled & Pickled Vegetables
Fresh & Dried Fruits
Assorted Artisan Breads, Paté, Assortment of Mustards, Cornichons & Olives
Roasted Peppers, Marinated Mushrooms, Marinated Eggplant,
Braised Artichoke Hearts, Oven-Dried Tomatoes, Cannellini Beans, Egg & Potato Salad
RAW BAR & SEAFOOD DISPLAY
Filled With Jumbo Shrimp, Clams, Oysters, Crab Claws, Steamed Mussels & Cold Seafood Salad
REGIONAL ITALIAN
Veal Picatta, Fried Calamari, Involtini Di Pollo Fiorentina, Eggplant Rolatini
LITTLE HAVANA
Moro & Cristiano, Roasted Pork, Maduros, Ropa Vieja, Cuban Moho Shrimp
SOUTHERN COMFORT
Fried Chicken & Waffles, Deep South Fishery & Chips, Shrimp Jambalaya, Down Home So. Co. Meat Loaf
CHEFS CARVING BOARD
Whole Salmon, Leg of Lamb, Baby Back Ribs, BBQ Brisket ~ Carved to Order Roasted Garlic Mashed Potatoes, Oven Roasted Sweet Potatoes, Candy Bacon Brussel Sprouts, Citrus Creamed Spinach
PASTA A LA CARTE
Gnocchi with Fresh Tomato & Lobster Ravioli
KIDDIE KORNER
Chicken Fingers, Mac N Cheese, Cheese Pizza, Slider Beef, Pulled Pork & French Fries
ELABORATE DESSERT DISPLAY
Classic Sundae Bar With Assorted Toppings
Chocolate Fountain with Assorted Dipping Items
Assorted Home Cookies & Brownies
BEVERAGES
Includes Assorted Soft Drinks, Juices, Fresh Brewed Regular/Decaf Coffee & Assorted Teas.
---
DINNER AT VOLPE
SOLD OUT!
Seating Times 12PM-5PM
$69* Adults / $39* Children Under 10
($25 Reservation Deposit Per Person Required)
~
APPETIZER
(choice of one)
Frito Misto | Antipasto | Fresh Mozzarella & Tomatoes
SALAD
(choice of one)
Fox Hollow Salad
crispy lettuce, vine-ripe tomatoes, hearts of palm, bell peppers, tossed in a balsamic vinaigrette
Caesar Salad
romaine lettuce, freshly grated parmesan reggiano cheese, croutons, tossed in a caesar dressing
ENTREE
(choice of one)
Berkshire Tomahawk Pork Chop (+5)
bone-in pork chop served with apple sauce, roasted potatoes, baby carrots, and strong beans
Colorado Rack of Lamb (+10)
herb-crusted half rack of lamb, mint jelly thyme sauce, served with roasted potatoes, baby carrots, and string beans
Branzino Livornese
pan-seared branzino, served with baby carrots and string beans, topped with livornese sauce, onions, capers, kalamata olives, garlic, parsley, basil, and peeled cherry tomatoes
Certified Black Angus Filet Mignon (+10)
9oz. filet mignon grilled to perfection and served with barolo sauce, roasted potatoes, baby carrots, and string beans
Pollo Florentina
chicken breast, eggplant, prosciutto, fresh mozzarella, cherry wine sauce, served with roasted potatoes, baby carrots, and string beans
Rigatoni Toscana
pasta tossed with beef tenderloin, veal, Italian sausage, and portobello mushroom ragu
DESSERT
(choice of one)
Tiramisu | Lava Cake | Tartufo
CHILDREN'S MENU
(choice of one)
Rigatoni with Tomato Sauce
Chicken Fingers with French Fries